I am a big fan of Thunderbird (current version when I'm writing this post is 3.0.1 - ThB3). It is a great piece of open-source software; and as every Mozilla project it has a very active community contributing to add-ons. Take a look at the official add-on list. This list is quite exhaustive. So here is my pick for the Top 5 Thunderbird Add-ons:
#1 Nostalgy
Nostalgy 0.2.23 by Alain Frisch. It adds keyboard shortcuts Thunderbird, for moving emails or jumping to a folder. The interface is activated with hot-keys and suggestions help you to auto-complete the folder you are interested in.

It makes non-repetitive task (such as sorting emails to different folders) quicker.
It allows to reach folders you don't even know where they are because you have too many of them.
You can easily jump to folders even if they are collapsed (i.e. not visible).
#2 Quote Colors
Quote Colors 0.3 by Malte Ruecker. It displays message thread into colors. In other words, replace the >>> with a color regarding the conversation depth.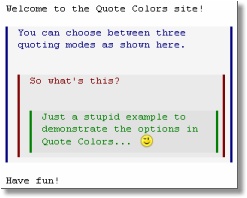 At a glance it displays how many replies there are in the conversation thread without visual overload.
You can focus on the content without looking to the >>> on the left side to get the conversation depth.
#3 ImportExportTools
ImportExportTools 2.3.2 by Wind Li. It exports/imports emails from files or other mailbox systems.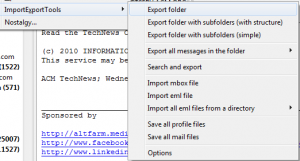 Perfect if you have email quotas and want to free some space.
You can easily re-import mails if you get quota extensions ;)
#4 Display Mail Route
Display Mail Route 0.3.1 by Jürgen Ernst. It adds a symbol (such as a country flag) regarding the route that took the email.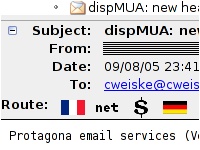 Very intuitive and compact way to detect spam/scams without visual overload.
Of course not enough to detect frauds, but one more indicator that does an IP lookup for you..
#5 AttachmentExtractor
AttachmentExtractor 1.3.5 by eviljeff. It makes email attachment extraction easier.

Provides a download shortcut to your favorite download folders.
Automatically renaming files to avoid replacing existing files.